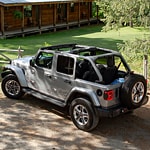 Do you want to go off-roading? Then you want to make sure that you bring the right vehicle on the road. Today, the Jeep Wrangler is considered one of the best off-road SUVs that you can drive. That's because the Wrangler offers you top capability features. Here are two ways the Wrangler can take you just about anywhere.
High Ground Clearance Rating

The Jeep Wrangler is designed to have a top ground clearance. This allows the SUV to easily handle large obstacles.
Read More